Education
University of Michigan Law School
J.D., 1986
Northwestern University
B.A., 1983, cum laude
Cell: 312.543.8473
E-Mail: [email protected]
Ty Laurie, founding partner of Laurie & Brennan, LLP, practices construction law nationwide. He is a fellow of the American College of Construction Lawyers, fellow of the American Bar Foundation, and the 2006-07 chair of the American Bar Association Forum on the Construction Industry. His representative matters include high-profile sports facility disputes, capital improvement and replacement projects for hospitals and medical facilities and construction of skyscrapers. Mr. Laurie has served as construction counsel or provided construction law advice for several Fortune 500 companies.   Besides trying cases to verdict, he counsels on project delivery methods, negotiates contracts, assists in the procurement of insurance, provides critical dispute avoidance services and advocates in mediations and arbitrations.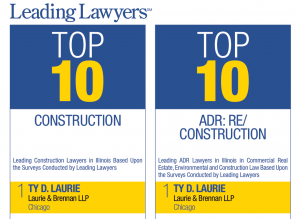 Mr. Laurie is consistently ranked among the top lawyers in construction law. Best Lawyers named him the 2013 "Lawyer of the Year" in Chicago Construction Law.   Chambers USA: America's Leading Lawyers for Business gave him a "tier 1" rating for Illinois construction lawyers, its highest individual rating. Expert Guides named him as one of the top 30 most pre-eminent lawyers in construction law in the USA in Best of the Best 2012.  Leading Lawyer Network ranks him as the Number 1 Top Construction Lawyer in Illinois in 2019 & 2020, Number 1 Top Lawyer in the Lawyer Neutrals Construction category in 2019 & 2020, the Top 100 Leading Business Lawyers in Illinois, and the Top 100 Leading Lawyers in Illinois.   He is consistently included in Best Lawyers in America, Illinois Super Lawyers, PLC Which Lawyer?, The International Who's Who of Construction Lawyers, The International Who's Who of Commercial Mediation, and Who's Who Legal: Illinois.   Martindale Hubbell rates him "AV," the highest rating available, reflecting pre-eminent legal ability and the highest professional and ethical standards. The PLC Which Lawyer? Yearbook 2009 lists him as "highly recommended," commenting that "he is well regarded in the market for advising on project delivery methods, contract negotiations and dispute avoidance." Mr. Laurie and his team were recognized in 1999 by Sears, Roebuck & Co. with the first Sears Construction World Class Partner Award.
In addition to his advocacy work, Mr. Laurie is a nationally renowned mediator and arbitrator.   Mr. Laurie is an American Arbitration Association (AAA) and International Mediation Institute (IMI) certified mediator and AAA-certified arbitrator for over 20 years, and has provided neutral services around the country on all types of construction disputes.   He is a AAA Master Mediator and on its distinguished Mega Project Panel of Arbitrators.   He is recognized as a member of the National Academy of Distinguished Neutrals, and he is a fellow of the American College of Civil Trial Mediators.
Mr. Laurie has a national reputation for his advocacy and neutral practice of construction law. His representative matters include: the multi-billion-dollar multi-building development in downtown Manhattan at Ground Zero to replace the World Trade Center; The Chicago Spire development, projected to become the tallest building in the Western hemisphere as well as the tallest all-residential building in the world; Lincoln Financial Field, the home of the Philadelphia Eagles; and the historic $600 million reconstruction of Soldier Field. Projects also include Arlington Park International Racetrack, Rush-Presbyterian-St. Luke's Medical Center; Northwestern Memorial Hospital, and Sears retail outlets nationwide.
PERSONAL
Ty is still basking in the glory of the Cubs World Series win--Go Cubs! Ty also enjoys traveling, reading, golfing, and skiing with his wife, two boys, and friends.
Awards & Honors
Ranked Number 1 Construction Lawyer in Illinois in multiple years byLeading Lawyers Network;
Ranked in Top 100 Leading Lawyers and Top 100 Leading Business Lawyers in Illinois for multiple yearsby Leading Lawyer Network;
Appointed by American Arbitration Association as a Master Mediator and Mega Project Arbitrator;
Fellow of the American College of Construction Lawyers;
Best Lawyers in Americanamed him the 2013 "Lawyer of the Year" in Chicago Construction Law;
Chambers USA: America's Leading Lawyers for Businesspresented him with a Tier 1 rating– the highest individual rating for Illinois construction lawyers;
Martindale Hubbell rates him "AV", the highest rating available, reflecting pre-eminent legal ability and the Highest professional and ethical standards;
The PLC Which Lawyer? Yearbook 2009lists him as "highly recommended," commenting that "he is well regarded in the  market for advising on project delivery methods, contract negotiations and dispute avoidance";
Mr. Laurie and his legal team were recognized in 1999 by Sears, Roebuck & Co. with the first Sears Construction World Class Partner Award for outside counsel;
Member of the American College of Civil Trial Mediators;
Recognized as a Member of the National Academy of Distinguished Neutrals;
Listed inThe International Who's Who of Construction Lawyers; Who's Who Legal: Illinois; The Best Lawyers in  America; Illinois Super Lawyer;
Professional Organizations
American Bar Foundation
American College of Construction Lawyers
American Bar Association

Forum on the Construction Industry

Chair (2006-07)
Governing Committee (2001-04)
Chair, Design Division (1996-99)
Publications Chair (2004)

Section of Litigation, Construction Litigation Committee

Co-Chair, Technology Subcommittee (1997-99)

National Academy of Distinguished Neutrals
American Arbitration Association — Master Mediator and Mega Project Arbitrator
International Mediation Institute
Society of Illinois Construction Lawyers
American College of Civil Trial Mediators
Chair, Zoning Board of Appeals, Village of Glenview (1996 – 2002)
Volunteer, Salvation Army and Chicago Cares